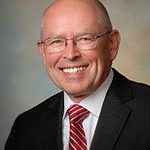 One of the most respected conservative theologians has thrown his opinion in the political ring and has advocated for the election of Donald Trump. His name is Dr. Wayne Grudem, the distinguished Research Professor of Theology and Biblical Studies at Phoenix Seminary. Prior to that he was a Biblical theology professor at Trinity Evangelical Divinity School. You may read his endorsement here. http://m.townhall.com/columnists/waynegrudem/2016/07/28/why-voting-for-donald-trump-is-a-morally-good-choice-n2199564
To critique Dr. Grudem's endorsement is analogous to a David challenging a Goliath. That is not to suggest that Dr. Grudem is by any way of personal character or doctrine a "Philistine", but rather my lowly stature and credentials compared to his Ph.D from Cambridge seems to be asking for a rather lopsided debate. Add on top of that his incredibly long theological textbook on the subject of cultural engagement makes this critique almost seem sophomoric. However, to allow his thoughts which might carry incredible influence amongst evangelicals to remain unchallenged seems equally offensive to me. I respect the good doctor immensely and agree with his opening remarks that Christian people will disagree and yet must find ways to respect each other in that discussion. That being said, I am completely surprised and to a degree disappointed that this is where the conservative, Biblical, theologian has landed. Especially when he has advocated theological positions through the years which have unapologetically upheld the standard of God's Word against what is theologically popular or trendy.
Dr. Grudem admits that as the primaries started he could not support Donald Trump and even advocated against him. I do not know upon what basis that advocation was made except to say that Dr. Grudem is known for his biblical precision which can only make me surmise that his lack of support was rooted in his biblical worldview. Yet now, he makes the case that support for Donald Trump would not violate a biblical worldview and in fact, might be supported by it. It is this type of theological schizophrenia from well-known evangelicals that has made this election cycle most frustrating. It is the fear of Hillary Clinton and the well established probabilities of her presidency juxtaposed to the skeptical hope of Donald Trump and the mystical future of his promises.
My critique of Dr. Grudem is summarized in FOUR (4) areas which I believe are leading evangelicals further down the road of disappointment and to national disaster.
1. An Inconsistent Hermeneutic applied in Elections.
What more serious accusation could be leveled against a distinguished professor of systematic theology than practicing an unsystematic theological conclusion? Dr. Grudem contends that Trump is "flawed", but not "evil". His use of vocabulary is important because that leaves the door open for ANY person practicing ANY behavior to be morally justifiable for a Christian to support. In fact, he goes so far to list those flaws comprehensively and declare that voting for Trump is "morally good and right". As a theologian, Dr. Grudem is well aware of the doctrine of depravity and how we all are subject to the frailties of our humanity, but what is astounding to me is that he considers none of these "flaws" (which the Scripture calls "sins") could be disqualifying for civil service.
I have written before that Romans 13:4, 6; clearly references civil leaders as "ministers" in God's sight. If we are to believe that the church's ministers are to be qualified by some minimal standard of conduct, then it is not some unattainable expectation that our civil officials would have similar expectations. Especially ones who have unequivocally stated that they have no need to ask for forgiveness and have yet to retract that publicly. Is there any "flaw" that Dr. Grudem would consider so egregious that it might disqualify them from the presidency? Apparently yes, because he is most vehemently opposed to Clinton (as am I), but the question that remains unanswered is upon what basis or standard does the GOP candidate get a pass while the Democratic candidate gets nailed? He answers that question later in his endorsement and I will examine momentarily in this critique.
Dr. Grudem will critique those of us who are attempting to be consistent in our biblical application of qualification with regards to the two major party candidates. While never stating it precisely, our application appears to be morally wrong if indeed his is morally right. I find it fascinating that those of us who are #nolesseroftwoevil advocates are constantly reproved for using the Old Testament qualifications of candidates (Exodus 18:21) while advocates for Trump apply all kinds of Old Testament prophecies and stories in their attempt to support Trump as being analogous to some Israeli King. My question to Dr. Grudem and others would be, "Why is your eisegesis more accurate than our exegesis? Why can you inflict our current scenario on an ancient scene when we cannot derive an ancient principle to apply to our contemporary scene?" For me, the answer is quickly becoming political preference rather than biblical fidelity.
2. The Baptism of Pragmatism
Dr. Grudem, who is known for his biblical fidelity, moves quickly to a list of concerns we have as evangelicals (of which I concur) in his article. The case is made that Trump is a more pragmatic choice in seeing these concerns addressed or changed. In fact, he quotes a minor prophet concerning "seeking the welfare of a nation" and then leaps to the conclusion that any vote outside of one for Trump is helping Hillary. Therefore, a vote for Trump is morally right because we "cannot stand by and do nothing". I have called this type of reasoning "situational pragmatism". It is when normally consistent biblical worldview thinkers suspend their worldview in order to justify a more pragmatic approach due to what they consider "extenuating circumstances". The colloquial phrase would be that they are trying "to help God out" or "the intention justifies the methodology".
Pragmatism is a virtue that is difficult to prove by Scripture. Is there really a need to list the scores of stories where pragmatism was eschewed and obedience to God's Word was implemented? Since when do we as believers default to pragmatism just because it "seems" to be the way to go? I seem to remember a verse that states, "There is a way that seems right to man, but the end thereof is death" (Proverbs 14:12). If that isn't applicable to unbridled pragmatism, then perhaps any sin or pragmatic methodology can be baptized as permissible by God. I am confident that Dr. Grudem would reject that line of reasoning for he is a committed complimentarian and would reject suspending gender roles because of pragmatic concerns, so I can only assume that he has compartmentalized his election philosophy outside of his biblical worldview. In essence, Dr. Grudem feels it is now time to "help God out", by suspending clear Scripture in selecting leadership because the choices we are presented demand it. That is bad theology.
3. The Authority of Probability
I do not know if Dr. Grudem is a theological cessationist or a continuationist, therefore I will critique his list of what Trump would conceivable do as President with the term "probability" instead of the word "prophecy". Many ministers of the Gospel seem to have the curtain unveiled before them concerning Trump's actions and policies in the future. Yes, I have heard all that Trump has promised. Yes, I know Clinton's track record. However, Dr. Grudem ostensibly wrote a policy paper for Trump that can only be based in probability. What are the chances? Who really knows? The question becomes, do we as Christians trust the probabilities of Trump executing those promises (some of which are projections of our hopes that have zero chance of happening), or, do we follow the pattern of Scripture by evaluating people by their "fruit"? At no time does Dr. Grudem suggest that Donald Trump is a perfect candidate, in fact, he lists most of the concerns that almost all of us have towards him. The question Dr. Grudem never answers is why he thinks Trump is biblically qualified to be empowered by vote to this position. It is without question that Christians have and will be ruled by morally corrupt, flawed, and evil people. The question that is never answered is, are we required to empower those people to leadership? I can accept God's providence in allowing an Ahab or Jezebel to rule, but am I expected to empower either one to that position?
Dr. Grudem never wrestles with the theological possibility of 3rd party candidates. He never considers the ways of God in Scripture of pulling people out of obscurity for His purposes or calling His people into a strategy which defies human logic and probabilities. I can assure you the stories of Gideon, Jehoshaphat, and Joshua would not fit the filter of "probability". We are not called as Christians to watch polling data, consider conventional political wisdom, or choose between two false choices. We are called to obey God fearlessly even at risk of ridicule. Earthly probabilities do not trump (no pun intended) Scriptural precept.
4. Yielding to a situational ethic.
The reason this election is causing Christians so much consternation is because we have been drawn from the simplicity of obedience. As a pastor friend of mine, Cary Gordon, states, "Obedience is simple; disobedience is complicated". This election cycle has caused division and confusion in the ranks of Christians because we intuitively know that we are applying a situational ethic to our vote. We are suspending our normal clarity in order to fit into a false paradigm. People, like Dr. Grudem I fear, are performing theological acrobatics to fit Trump into a biblically plausible choice.
Dr Grudem goes so far as to attack what he calls, "the fallacy of no lesser of two evils". He calls this "reductionism" which reduces every argument to one factor when the situation requires multiple considerations or factors. Aside from the error that the #nolesseroftwoevil movement has entered into reductionism (even Grudem listed more than a dozen reasons to reject Trump), at what point could any social issue or moral concern be labeled as reductionism? Is Grudem suggesting that a Christian can conceivably vote for a pro-choice candidate in the future as long as they are less pro-choice than their opponent? Is he suggesting that we could vote for and empower a transgendered candidate as long as we are looking at the total policy package? Reductionism sounds academic and plausible as a reason to suspend your biblical worldview and jump on a candidate's bandwagon, but are you really willing to live with where that argument will feasibly lead you? At what point do you draw the line of compromise and simply say, "My conscience is captive to the Scripture. Here I stand, I can do no other". (Martin Luther)
That is the danger of situational ethics. It causes us to evaluate circumstances based on what WE think is best and not what God says is best. Our consternation as evangelicals is a reflection of what has been happening for years in the church which is the slow slide away from biblical and moral objectivity. Our authority has become our "feelings" and what we think is best. My concern is that Dr. Grudem has given the green light for that reality to be justified. Voting is as much a biblical concern for the Christian as any other aspect of life.
As I conclude, I want to say again that this critique is about as difficult a writing as I have ever done. Dr. Grudem's books, lectures, and insight have been foundational for so many with regards to the challenges of our culture. Again, I hope this has come across as respectful and civil. I take no pleasure in challenging someone who I know shares many of the same concerns and goals that I would espouse. I simply believe the time has come for Christians to embrace the simplicity of Exodus 18:21, even if it means voting third party, and then after we have obeyed, we can rest, knowing that God is at work in our fearless obedience.