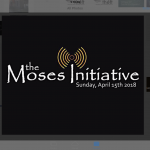 THE MOSES INITIATIVE
Restoring the Pastor's Voice to the Civic Arena
Sunday, April 15, 2018
April the 15th is a date seared into the American psyche as national tax day. It is the day the IRS expects payment in full the tax burden for which each American citizen is responsible. It represents many things to many people, but for a number of Americans it represents the increasing loss of personal liberty and the increasing expansion of federal tyranny. For religious Americans it represents the funding of numerous programs which violate the convictions of their faith and fuels the ever increasing hostility to religious liberty and specifically the Christian Faith.
The Bonhoeffer Institute is sponsoring a nationwide event to encourage thousands of Bible-believing pastors to use Sunday, April 15, 2018, as a national moment to deliver a biblically based sermon concerning a civic, cultural, or governmental concern. The Johnson Amendment in the IRS Code 501 c 3 (the mythical restriction of the pastor's voice in "political" topics) currently remains as law and despite pending legislation which would greatly restrict the enforcement of the Johnson Amendment, it will do the church no good unless the pastor's of this nation step into their pulpits and exercise their liberty, their influence, and their calling.
This movement is called, The Moses Initiative.
Moses was called of God to speak truth to civic power. He was called to apply God's Word of Liberty in the arena of government tyranny. His voice became the voice of the Lord to a rebellious government which had enacted sinful policies. However, even for Moses, he had to regain his voice.
It is time for the pastor's to regain their voices and speak from their pulpits to the politicians and policies of our day. It is time to speak biblically to the issues we face and again be the voice of the Lord to our contemporary culture. The commitment we are seeking from pastor's is simple:
1. To designate Sunday, April 15th (or a Sunday in April as schedule permits), to specifically preach a message addressing a civic ("political") issue and teach your people how God views that policy or issue.
2. Sermons can revolve around scores of topics such as: Tax policy, Health Care, How to Vote as a Christian, Abortion, Transgenderism, Same-sex marriage, Foreign Policy, Immigration, to name a few. It can touch on local, state, or federal concerns. All of these can be approached from a biblical perspective and is at the total discretion of each pastor.
3. Each pastor will need to evaluate how direct they need to be in their local context, but this Sunday is designed to provide a national movement to which pastor's can be confident that they stand with untold numbers of their ministerial colleagues in recovering their voice and influence in civic matters.
4. Please connect on the social media page by "liking" and then posting a short report as to your topic on that Sunday. We would love to know how many pastor's are joining this growing initiative. You may "like" on social media… Here
The Bonhoeffer Institute wants to encourage you as a pastor to join this initiative and recover your voice to the culture. Should you be challenged or threatened in your calling and constitutional right, there are skilled First Amendment attorney's who are willing and excited to help you exercise and maintain this important liberty. You are not alone.
Please feel free to share this initiative with your network of ministerial colleagues and friends. May God ignite the pulpits of America and may the pastor's of America courageously regain their voice.
The Bonhoeffer Institute is a theologically conservative training organization and think tank for Pastor's and Christian Leaders to effectively engage the culture and civic government with a biblical worldview.